In the morning of 8th Oct 2016, the event "Viet Youth be together with Vietgoods" was officially raised the curtain at Thong Nhat park, Ha Noi city.

The crowd of managers, policy makers, enterprises and a lot of pupils and students, Hanoian joined the event "Viet Youths accompany with Vietgoods" which was directed by Ha Noi People's committee and was hold by Ha Noi Office of Industry and Trade. The celebration of the 62th anniversary of Hanoi capital's Liberation day (10/10/1954-10/10/2016),  responding to the campaign of " Viet Youth be together with Vietgoods".
This event took place from 7th to 9th/ Oct with a lot of meaningful activities: 150 outlets, colorful and youthful camps built by more than 20 universities and 100 outlets of Vietgoods.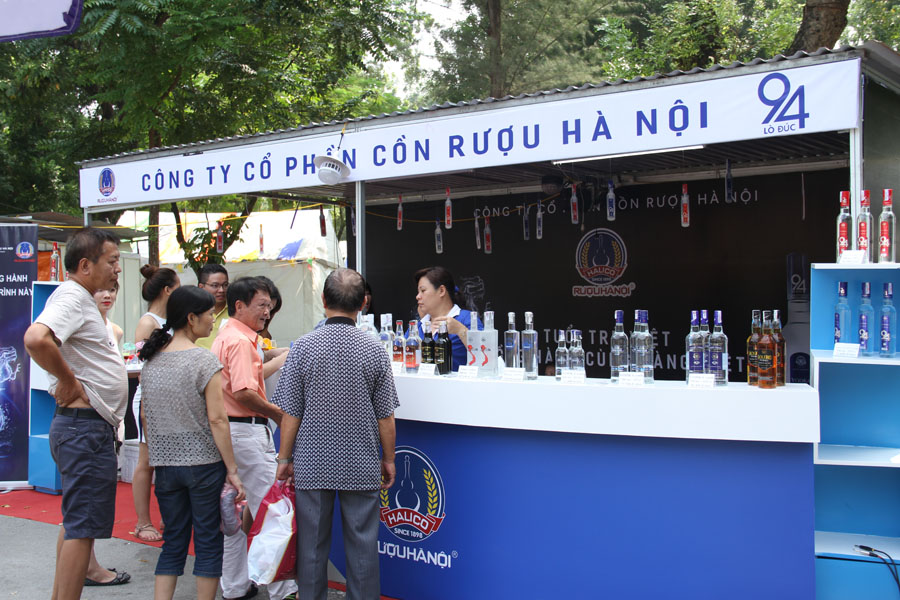 The aim of program is to educate, to raise awareness of consumer in the capital, especially, to the young intelligentsia in effort of helping Vietnamese businesses in protecting market share and domestic brands . In this program, the organizer hopes to contribute of propagating, increasing awareness and responsibility of consumers in the capital, especially, to young consumers in priority of consuming Vietgoods, contributing to boost the development of Vietnamese brand Enterprises during the integration period.
Với nòng cốt là sinh viên của tất cả các trường Đại học, Cao đẳng trên địa bàn thành phố, Chương trình "Tuổi trẻ Việt đồng hành cùng hàng Việt" đã thu hút hơn 10.000 lượt người tiêu dùng và khoảng 30.000 lượt sinh viên. Đây là cơ hội để sinh viên kết nối, giao lưu và tìm hiểu về sản phẩm, thương hiệu tiêu biểu của Việt Nam thông qua nhiều hoạt động có ý nghĩa, khác biệt và duy nhất. Đầu tiên phải kể đến mô hình kết nối 150 gian hàng theo hình thức gian hàng-hội trại gồm các gian lều trại mang màu sắc tươi mới, trẻ trung, đậm chất sinh viên của hơn 20 trường Đại học lớn gồm các trường như Đại học Hà Nội, Đại học Văn hóa, Kinh tế quốc dân, Ngoại Thương, Bách Khoa, Xây dựng, Luật, Thương mại…và 100 gian hàng Việt ngập tràn sản phẩm chất lượng cao với nhiều khuyến mại, quà tặng phù hợp nhu cầu của sinh viên nói riêng và người tiêu dùng Việt Nam nói chung.
With a core of students from universities and colleges in the city, the program "Viet Youth accompany Vietgoods" attracted more than 10,000 customers and about 30,000 students. This is an opportunity for students to connect, communicate and learn about special products, brands of Viet Nam through a series of meaningful, different and unique activities. Firstly, the model of connecting 150 colorful and youthful booth  and camp of more than 20 major universities including schools such as Ha Noi University, Hanoi Culture University, National Economics University, Foreign Trade University, University and Science and Technology, University of Construction, University of Law, University of Commerce … and 100 booths of Vietgoods were fully with Vietnamese high quality products and a lot of promotion activities, gifts in accordance with in particular, students' demand and in general, Viet consumers.
Besides, the competition of "From awareness to Vietgoods consumption behavior" took place 2 days from 8th to 9 th Oct in 3 rounds, including topics related directly to Vietgoods, Vietnamese businesses, Viet consumers during the integration process; Gameshow "Discover Viet's brand", a highly-interactive contest to survey of taste and sentiment's customer of products and brands of Viet's brands.

Pictures of Halico's booth at event: