Every Year, during Tet holiday, consumers' demand of alcohol and beverages highly increased, it's an opportunity for counterfeit  to blend into the market. Counterfeit and fake-liquor not only cause financial damages to the genuine enterprises, but also affect the health of consumers.
We need a hand from the enterprises
According to statistics from the Vietnam Beverage and Alcohol Association (VBA), in 2014, the total liquor-industry's output reached about 67 million liters, almost unchange, compared to 2013 (about 66.8 million liters). Meanwhile, noncommercial alcohol is still popular and hard to control, it is estimated up to 200 million liters, 3 times of industrial alcohol. In particular, the amount of counterfeiting, fake-liquor that out of the management of the Government may be up to 50% compared to the real-ones. To prevent fake-liquor, counterfeiting, we need the hands of the enterprises.
Mr. Nguyen Duc Thinh, Vice President of the Vietnam Association for anti-counterfeiting and trademark protection, said, the current status of fake-goods and counterfeiting is very serious at the moment. For every kinds, from high-class to normal goods, there're counterfeiting. "There is nothing impossible to be counterfeited. Even now we have 3 anti-counterfeiting stamps, but they were counterfeited. The products have well sales are more likely to be counterfeited, "said Mr. Thinh. Therefore, according to Mr. Thinh, beside the Government, enterprises are also responsible to against counterfeiting.
Mr. Mai Van Loi, Director of Hanoi Liquor Joint Stock Company (Halico) said combating counterfeit is not only protecting the reputation and revenue of enterprise, but also the responsibility for the health of consumers. Therefore, to prevent counterfeiting, unauthorized copying, Halico has invested to modernizing the factories by European technology for bottling, labeling. HALICO believes that these upgrades will make Company's products are difficult to be copy manually by the small workshop. At the same time, the company also collaborate with the authorities in the war against counterfeit goods. "We have registered patent protection for our brands. Corks are modern design, the button can not be reused." said Mr. Loi. In addition, according to Mr. Loi, Halico changed product models, remove the old-style bottle that might have been purchased for reusing by the fake-liquor workshop .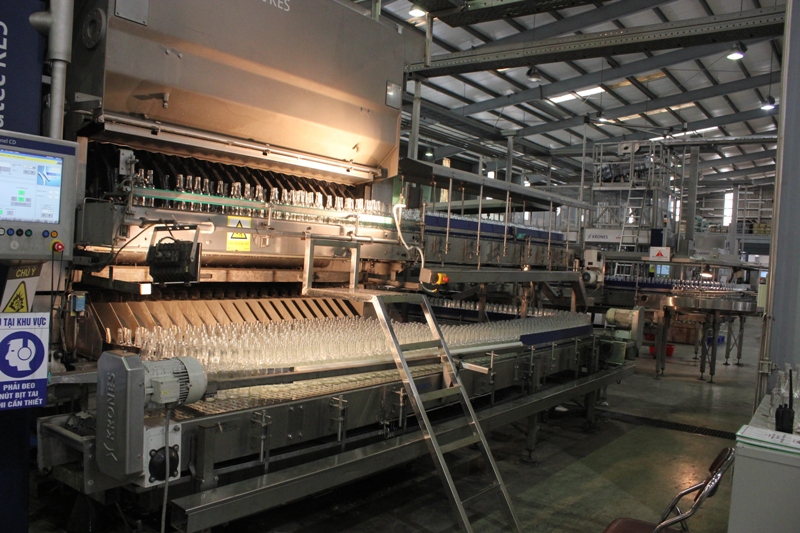 According to HALICO's report for analyzing some fake products obtained, Methanol index is high, while for the real product, the index is 0, or lower than the standard prescribed by the State. Methanol, also known as industrial alcohol, used as medical alcohol, energy (dry alcohol), solvents (liquid glass cleaner, toner for copiers, mixing). According to medical experts, when drinking wine with high concentrations of methanol, the nervous system will lose control, also liver and brain are severely affected. Methanol poisoning may lead you to death.
How to identify real – fake liquor
Mr. Nguyen Van Viet, President of the Vietnam Beverage and Alcohol Association (VBA), said, in the war against counterfeit goods, we need the hands of both the authorities and enterprises. Mr. Viet gave an example, for liquor products, manufacturers should destroy or collect old bottles to avoid bottles from being recycled to contain fake liquor. Also, enterprises should update anti-counterfeiting technology to these bottles for consumers to detect easily. According to Mr. Viet, the best-selling products on the market are hard to avoid being copied and counterfeited, the problem's just sooner or later. Therefore, manufacturers should also be active in the war against counterfeit.
According to Mr. Viet, consumers should know some methods of identifying real – fake liquor, to avoid "bringing real money to buy fake products" such as: The level of alcohol in the bottle, the levels for real liquor are usually equal between bottles since they have been closed by automatic production lines, while the levels of alcohol in the fake liquor – bottles are irregular because they were made manually. In particular, all fake liquor products use the recycled bottles of the real products, thus, through the cleaning process, the label on the bottles might be scratched, peeling, or lack sharpness label in comparison with the real one. When opened, the bottle of real product is easy to open, sharp grooves cut with very compact snap, and the fake products are not. When drinking, fake alcohol has odor smell of methanol or nail polish (acetone) quite heavy, slightly bitter taste, while real liquor has light fragrant, mild taste …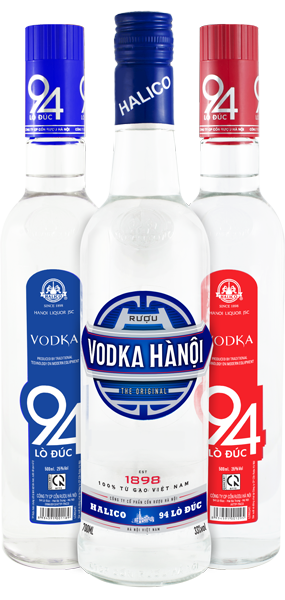 To accompany the campaign against counterfeit, recently, in addition to more than 50 million US dollars investment in modern production technology. Hanoi Liquor JSC (Halico) has also changed designs and high-tech packaging to make the product difficult to be forged by ordinary tools. "Both of our new products recently introduced to the market – 94 Lo Duc Vodka and Vodka Hanoi, are embossed with logo, brand, serial number of bottles. Especially, we also imported corks from Europe, it's one time using product that is difficult to be falsified "- said Mr. Mai Van Loi, Director of Halico. That is one of the efforts of HALICO in the commitments to protect consumers' rights and health.